Kristyn Richardson, DVM, CCRT, CVSMT 
Kristyn received her Bachelor of Science in Human Biology from the University of Kansas in 1998. This was followed by a Doctor of Veterinary Medicine degree from Kansas State University in 2002. After working 7 years as an emergency veterinarian, she earned her certification as a canine rehabilitation therapist (CCRT) in 2010 from the Canine Rehabilitation Institute. She also finished her education in veterinary acupuncture from the International Veterinary Acupuncture Society in the same year and began practicing veterinary rehabilitation and acupuncture. Most recently in 2014, she received her certification in veterinary spinal manipulation (CVSMT) from The Healing Oasis Wellness Center. She currently serves on the Board of Directors for the American Association of Rehabilitation Veterinarians as the Legislative Liaison.
Originally from Indianapolis, Indiana, Kristyn moved to Colorado in 2008 and is not planning on leaving any time soon. She enjoys walking, hiking, reading, music and being out in nature. She shares these experiences with her husband Marcus, sons Simon and Nathan, and dogs AJ, Kamoe, and Pepper.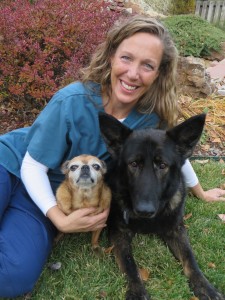 Kristie Mecca, Certified Canine Therapeutic Massage Therapist
Kristie finds joy in helping people and their animals by offering their animal companions compassionate, grounded healing through touch. Already a Reiki practitioner for 20 years, Kristie became certified in canine therapeutic massage therapy with The Rocky Mountain School of Animal Acupressure and Massage. Kristie combines Certified Canine Therapeutic Massage Therapy with Reiki to help animals live with optimal wellness, both physically and emotionally. In addition to her certification in canine therapeutic massage, Kristie completed a Reiki for Horses clinic with Anna Twinney. As a Reiki practitioner, Kristie has worked with horses, donkeys, dogs, cats, wild birds, chickens, fish, and more.
She lives with her good-natured husband and an entertaining bunch of rescued animals. With a readiness for caring for the broken and unwanted, their home is lovingly referred to as "The Broken Toy Shop." It currently includes a German shepherd, a Brussels griffon, and a three-legged cat. When not helping animals and the people who love them, Kristie enjoys writing, traveling, hiking, snowshoeing, and spending quite time in nature.